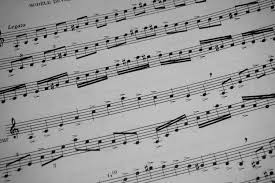 Music
Head of Department – Mr Laurence
The Music Department at St Michael's Catholic College is all about learning within an educational, creative and fun environment for pupils from a variety of musical backgrounds and diverse prior experiences. Students are encouraged to develop their talents and learn to express their creativity, knowledge and skills through a range of activities.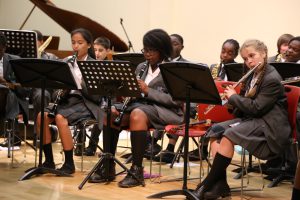 St. Michael's has a busy Music department with a diverse range of teaching staff made up of two full time and five part time teachers. Staff subject knowledge is comprehensive and represents a wealth of experience and genre not least, due to the expertise available as a result of their work in the music industry. Full time staff play an active part in supporting the musical liturgical aspects of College life.
As a department, we benefit enormously from visiting partners drawn from the profession; last year these, included the Aurora Orchestra, SSAT and Southwark Hub.
In turn, pupils are inspired to take part in our regular programme of informal and formal concerts.
Activities: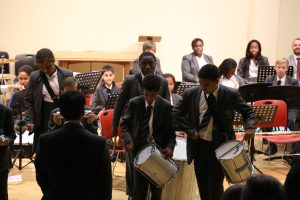 Pupils are encouraged to be a member of an ensemble. This allows pupils to share time and enthusiasm, be responsible and applaud each other's achievements.
Instrumental exams are held two to three times per year and pupils can take exams through the accredited awarding bodies- ABRSM, Trinity and Rockschool.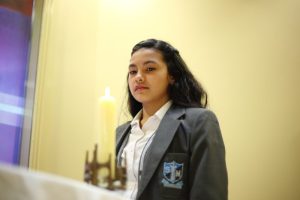 The department is well resourced and boasts a wide range of musical instruments for use by pupils and their visiting teachers, along with comprehensive ICT equipment, notably a professionally equipped recording facility.
Pupils in the department have a breadth of practical and academic musical experiences that caters for their interests and that broaden their musical horizons.
St Michael's has a regular timetable for live performance opportunities through its Celebration Evenings and concerts.
St Michael's has a regular timetable for live performance opportunities through its Celebration Evenings, concerts and contributions towards the annual Southwark Catholic Schools Music Festival.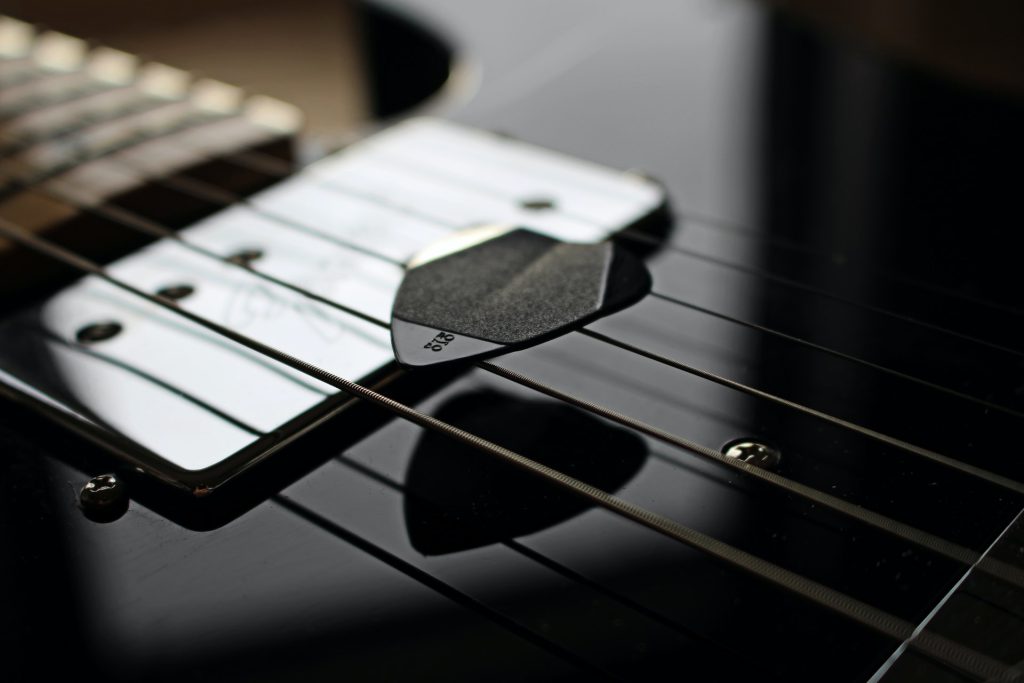 Programme of Study KS3
St Michaels' Catholic College has a newly revised scheme of work where the children develop their understanding, make musical judgments, apply their new learning, develop their aural memory, express themselves physically, emotionally and through discussion and create their own musical ideas. The wide range of core resources has been developed specifically to motivate and capture each individual's personal interests.
The children not only learn about music; they become musicians who are able to share and perform using their new skills.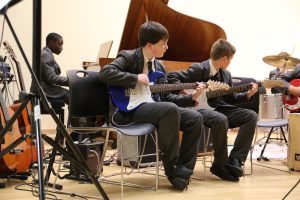 From years 7-9, all students at St. Michael's have a 60-minute lesson of music curriculum time per week.  All schemes of work provide opportunities for pupils to develop significant skills in the three assessed areas of the Music curriculum: performing, composing and appraising.
These projects focus on the key skills required to meet the curriculum, developing melody, rhythm, harmony, form and structure, texture and timbre.
The Music Department is well equipped with classroom instruments that include African drums and xylophones as well as piano keyboards. Many of the music projects taught at KS3 also make use of a very well equipped Apple Mac ICT suite in the music room that is used to support the curriculum.
Curriculum Content Music KS3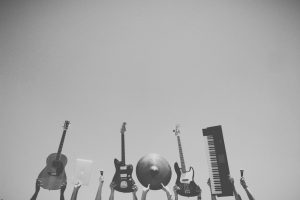 Programme of Study KS4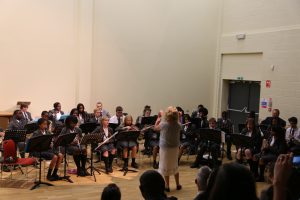 OCR GCSE Music- New specification- (2016 onwards)
Non-exam assessment
Intergrated Portfolio (Composing music)
60 Marks 30% of total GCSE
Non-exam assessment
Practical Component (Performing music on an instrument or voice)
60 Marks 30% of total GCSE
Non-exam assessment
Listening and Appraising 40% of total GCSE
80 Marks
1 hour and 30 minutes written paper
Performance on the learner's chosen instrument.
Composition to a brief set by the learner.
Ensemble performance.
Composition to an OCR set brief.
Listening and appraising.
A written paper, with CD.
Aural recognition and context unheard/unfamiliar music from within the Areas of Study 2, 3, 4 & 5.
The total length of performance required combined is a minimum of four minutes with at least one minute as part of an ensemble.  Learners can perform several short pieces for either or both components.  The total length of composing required combined is a minimum of three minutes.
AoS1 – My Music: You study your own instrument with a focus on performing and composing. This could be a musical instrument, your voice, creating music on a computer (sequencing) or DJ-ing.
AoS2 – The Concerto Through Time: You study how the concerto (a composition for soloists and orchestra) developed over the period from 1650-1910.
AoS3 – Rhythms of the World: This covers music from the following location: India and the Punjab region, the Eastern Mediterranean and the Middle East, Africa, and Central and South America.
AoS4 –Film Music: You study music composed for films and classical music used within films. You also study music composed for video games.
AoS5 – Conventions of Pop: This covers pop music from the 1950s onwards. It focuses on Rock'n'Roll in the '50s and '60s, Rock Anthems in the '70s and '80s, Pop Ballads in the '70s, '80s and '90s, and Solo Artists from the '90s onwards.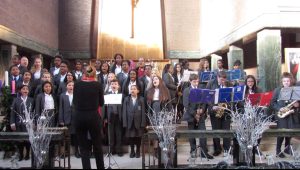 Extra – Curricular Programme
Tuition is available in:
Woodwind
Brass
Strings
Drum Kit
Guitar
Piano
There are many extra curricular activities at lunchtime and after school that include:
Junior/Senior Wind Band
String ensemble
Samba band
Guitar club
Choir
Brass group