"Imagination is more important than knowledge. Knowledge is limited.
Imagination encircles the world."– – Albert Einstein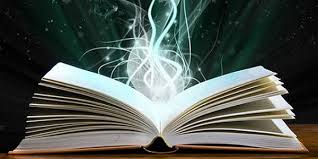 English
Head of Department – Mr Bourke (Head of English)
A student's ability to read, write and imagine is at the very heart of enabling them to be the best learners they can be, as such, the English Department's role is a central one.
We aspire to create a learning environment which is stimulating, challenging and purposeful. We aim to cultivate in our learners a genuine passion and excitement about texts and ideas and to encourage our young people to have independent and enquiring minds. We want students to have a clear sense of the importance of communication – written and spoken – both in their own lives and the wider world around them.
We work for our learners to develop a critical appreciation of how language is used by writers but also enable them to use the written word powerfully and creatively. We aim to achieve this through a rigorous and inspiring curriculum that encourages not only a love of Literature, but also the abstract, conceptual thinking that will enable the highest possible attainment for all our students.
Course content
Key Stage 3:
English curriculum develops the literacy and comprehension skills taught at KS2 but develops them further, introducing students to the concept of canonical texts and encouraging them to make thematic and comparative links across time and genre. We also work on developing their independence in class and as readers.
Across years 7, 8 and 9, students will study:
Poetry, including in-depth case study of at least one poet
Prose fiction, in the form of both novels and a broad range of extracts from key texts from the 19, 20th and 21st centuries
Non-fiction and media texts, including autobiography and high quality journalism.
Drama, including Shakespeare
Writing in different genres and for different purposes and audiences, developing their own styles and voice.
Curriculum Content English KS3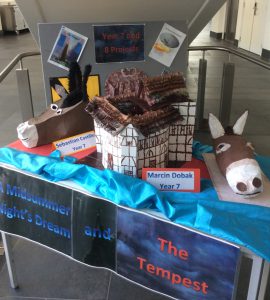 Key Stage 4:
All students take two GCSEs in English – English Language and English Literature
As of September 2015, students follow the reformed AQA GCSEs in English Language and English Literature.
Both courses are linear, have no coursework and have closed book, terminal exams taken at the end of the two year course. These courses are un-tiered so all students will sit the same exams.  In 2017, students will receive numerical grades from 9-1 (not the current letter grades).
Across the two years, students will continue to develop their critical reading skills by studying an anthology of poems, a modern novel/play, a 19th century novel, a Shakespeare play as well as a range of prose fiction and non-fiction extracts.  Student will also work on developing their skills as writers through writing argumentative pieces, speeches, informative texts and narrative/descriptive texts.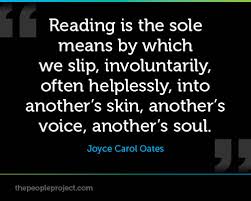 Key Stage 5:
The English department offers two A-levels in English: English Language or English Literature.  Both are academically rigorous courses and students are expected to be independent readers and thinkers.
The English Language course follows the Edexcel specification. This course is for students who want to study how the English Language works – at the level of individual words and sounds but also socially and philosophically.  This course covers language and identity, language change, language and gender and how children learn to speak.  Study of these topics is underpinned by intense training in the grammar, syntax, phonology, morphology and pragmatics of the English Language and how they work in texts of all kinds, whether written or spoken.
The English Literature course follows AQA Specification A.  This course is for students who love to read and want to study novels, poetry and plays in great depth and detail, considering their place in society – at the time they were written as well as now – and what they can offer to help us understand ourselves and the world around us better.  The course involves themed units and will require students to compare texts and read widely – not just the books being studied in class.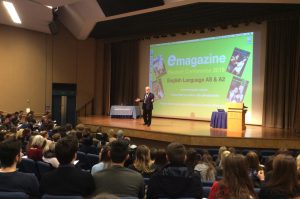 Activities
The English Department believes reading is central to pupils' enjoyment of and progress in English but also the wider curriculum. We encourage pupils to enjoy reading by involving them in various activities, some them tailored to their ability with the help of the SEN or G&T.
The English Department has also created a curriculum enrichment programme – a series of events aimed at promoting learning outside the classroom. The programme includes such things as a visit by a poet/rapper for Year 7, an in-house Shakespeare workshop with The Hip-Hop Shakespeare Company for Year 8, BBC School report for Year 9, participation in the Speak Out Challenge for Year 10 and various educational visits to see professional drama productions based on the literature studied.
Study Clubs
The English Department run a series of after school and Saturday school study sessions clubs for all KS4 pupils who are about to sit their external examinations.  Dates and times are advertised around the School and parents are also informed by post and texts. We also organise half-term revision sessions that are led by experienced English teachers or Consultants.
Results
In 2016, 93% of GCSE students got a C or above in English Language or English Literature.
100% of AS and A-level students passed their A levels in English Language or English Literature.