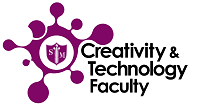 Design and Technology (D&T)
Head of Department – Ms Arjan (Head of Design and Technology)
Design technology helps students develop their creativity, through innovation in both practical and design work across a range of material areas. At St Michael's Design technology is compulsory at KS3 to give students a range of essential life skills working in a range of different material areas. At  KS4 and KS5 Design Technology is optional and  narrowed down to a specific material area.
Programme of study at KS3
Students will be taught on a carousel in years 7, 8 and 9 and over each year they will experience a  range of material areas including Food technology, graphic design , product design and textiles. To enable practical lessons to be taught thoroughly all DT lessons are double.
Across all the material areas students will be taught:
Design
Use research and exploration, such as the study of different cultures, to identify and understand user needs
Identify and solve their own design problems
Develop specifications to inform the design of innovative, functional, appealing products that respond to needs in a variety of situations
Use a variety of approaches to generate creative ideas and avoid stereotypical responses
Develop and communicate design ideas using annotated sketches, detailed plans, 3-D and mathematical modelling, oral and digital presentations and computer-based tools
Make
Select from and use specialist tools, techniques, processes, equipment and machinery precisely, including computer-aided manufacture
Select from and use a wider, more complex range of materials, components and ingredients, taking into account their properties
Evaluate
Analyse the work of past and present professionals and others to develop and broaden their understanding
Investigate new and emerging technologies
Test, evaluate and refine their ideas and products against a specification, taking into account the views of intended users and other interested groups
Understand developments in design and technology, its impact on individuals, society and the environment, and the responsibilities of designers, engineers and technologists
Technical knowledge
Understand and use a wide range of materials, equipment & processes
understand and use digital resources & specialist equipment
Programme of study at KS4
The college currently offers three Design Technology subjects at KS3; Product design, Textiles and Home economics: food and nutrition. We use AQA exam board for all our KS4 subjects. Please see the separate entries for these subjects for more information.
Extra curricular activities:
The Design technology currently runs a club for KS3 after school once a week, run by the qualified DT technician.
Workshops are open most evenings after school for KS4 and KS5 to drop in and receive one to one help from subject specific teachers.